Friday Newsletter time: Texas Rangers need to learn their lesson from Anderson Tejeda's stunning fall
The young shortstop endured a miserable 2021 season, including a brief appearance in the majors. He signed Thursday with St. Louis.
Finally, some St. Louis Cardinals news in the Texas Rangers Newsletter for paid subscriber Mike Maddux.
The Cardinals, who continue to employ Maddux as pitching coach, reached a minor-league deal Thursday with former Rangers prospect Anderson Tejeda. The shortstop was designated for assignment earlier this month, cleared waivers and became a six-year minor-league free agent.
The signing with St. Louis is the end of a sudden and shocking free fall for Tejeda, who made his MLB debut in 2020 and held his own despite never playing above A ball. He was a top-10 Rangers prospect entering 2021, but he endured a terrible season.
He was part of the taxi squad to start the season and was an early injury fill-in. He collected only one hit in 16 at-bats before landing at Triple A Round Rock, where he hit only .152 in 28 games and was demoted to Double A Frisco.
He was only mildly better there, hitting .200 in 47 games.
The Rangers expected Tejeda to look for a fresh start elsewhere after his bumpy ride. He shouldn't have been in the majors this season, even if for only 16 at-bats. The Rangers should have kept him exclusively at the alternate site or in Arizona for minor-league camp after big-league camp ended.
The Rangers know they dropped the ball here.
Tejeda, 23, is playing in the Dominican Winter League, where his entered Thursday batting .316 for Licey. The Cardinals gave Tejeda an invite to big-league camp. If they're smart, he will open the season either at Double A Springfield or Triple A Memphis.
The guess here is they will learn from the Rangers' mistake. The Rangers need to learn from it, as well.
By the way, Ronald Guzman and Curtis Terry, who were also outrighted and became minor-league free agents, have expressed an interest in returning to the Rangers.
Assistance for minor-leaguers
What had been reported last month is now official: MLB club owners have agreed to provide lodging for some 90% of all minor-league players.
It's a massive victory for minor-leaguers, many of whom didn't sign for huge paydays and are woefully underpaid during the season. By not having to pay rent and some utilities, their quality of life just got a lot better.
All housing must be furnished, every player must get his own bed, and there can be no more than two players in the same bedroom. If a locale doesn't have proper accommodations, teams can house players in a hotel.
The only players who must pay for their own lodging are players who have a major-league uniform players contracts and minor-leaguers who will earn six figures over a full season.
Rangers prospect Owen White said last month that the hardest part about lodging for a player is finding it. He pitched at Low A Down East in Kinston, N.C., but most players stayed 30-40 minutes north in Greensville
Most have multiple roommates, and it can be a scramble to make up for lost rent when a player is promoted or injured, as was the case with White. He said the big-league team helps pay the difference until a replacement roommate can be found.
Now, though, most players don't have to worry about any of that, and many will have some much needed extra money in their pockets.
Card of the Week
Friday on the Farm later today is going to attempt to identify the five best starting pitchers in the Rangers system. It's not rocket science.
Among those who missed the cut is a right-hander who was cut on earlier in the year. But Rangers officials keep saying that Dane Acker is someone to keep an eye on.
As such, his 2020 Bowman Draft purple parallel (179 of 250) is the Card of the Week. His Oakland uniform is a reminder that he was acquired in the Elvis Andrus trade in early February.
Acker is a native Texan, from Brenham, and was the A's fourth-round pick in the 2020 MLB Draft from Oklahoma. His fastball was reaching 98 mph in minor-league spring training before his ulnar collateral ligament tore and led to Tommy John surgery.
Acker could be ready to go in the second half of next season. Keep that in mind, as a few club officials have told me to so.
Listen to "Episode #13 Tekoah (TK) Roby" by Texas Rangers Baseball Podcast . ⚓
anchor.fm/txrangerspod/e…
@JeffWilsonTXR
and I welcome
@Tekoah8
Roby. They talk about his career and injury that was a bit scary. Then they each add $80 million to the
@Rangers
payroll.
@TEXPlayerDev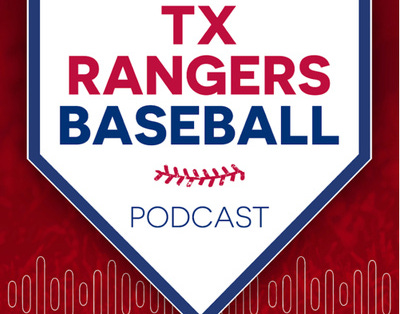 Episode #13 Tekoah (TK) Roby by Texas Rangers Baseball Podcast
Jeff and John welcome Rangers RHP prospect Tekoah Roby who explains where his unique name comes from. He also talks about his injury and recovery. They dive into his time in high school, other sports played and his favourite food. Yep, he even plays a smaller version of the HR game. Jeff and John t…
anchor.fm
Doggy video!
Try to make the most of what you've got this weekend, like this pups. Enjoy. See you Monday (probably).